3 Reasons Why Women are Switching to Reusable Pads
1.

Say goodbye to discomfort, itching and infections.

Reusable pads are plastic and chemical-free and made of organic materials. They are soft and ultra-thin, which makes them comfortable and almost unnoticeable. They adjust to your body perfectly as a disposable pad and guarantee you won't feel chafing or odors. It's a 100% hypoallergenic alternative to synthetic menstrual products.



2.

3x more absorbent than a disposable pad.

They have four layers of natural and technical fabrics to guarantee fast absorption and avoid a feeling of wetness, as its DryFit technology layer wicks away moisture. You'll completely forget about leaking because they have an absorbent layer that absorbs 10 times its weight in 3 seconds and distributes your flow evenly throughout the pad.



3.

Save tons from day #1.

Reusable pads last up to 5 years with the correct washing routine. The quantity you'll need depends on your flow, but our clients usually need 5 to 7 for each cycle as they guarantee full protection for 6 to 8 hours.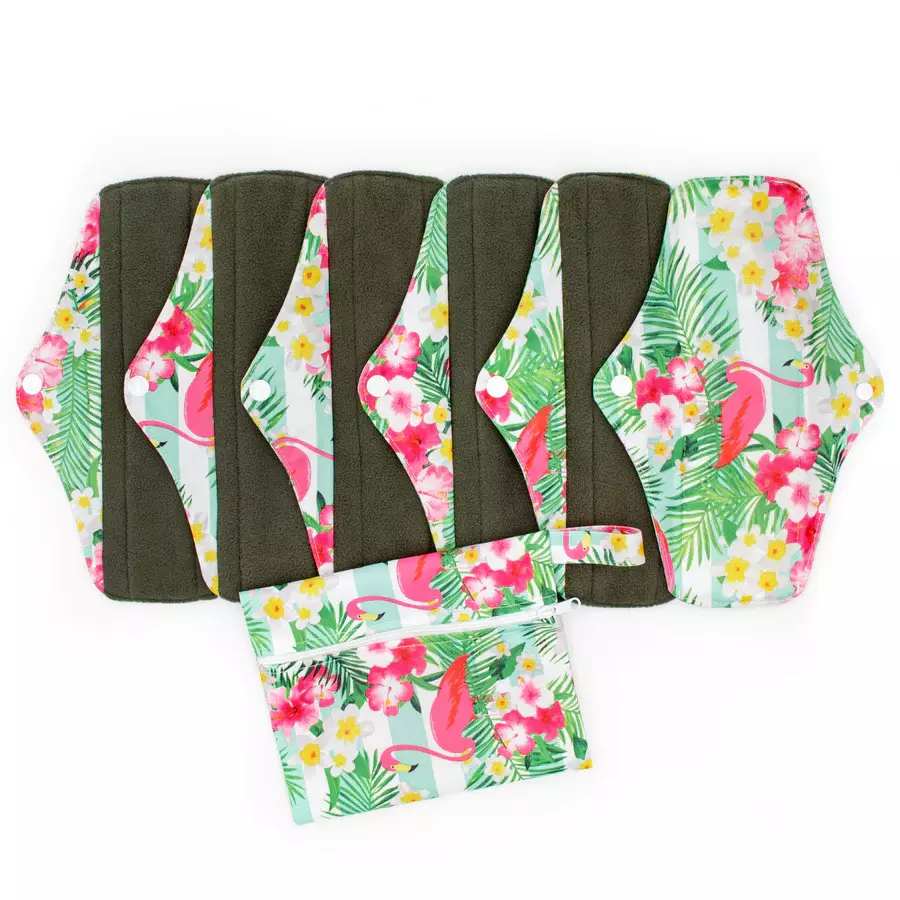 How do reusable menstrual pads work?
Breathable and super soft bamboo top layer is antibacterial and odor neutralizing. Ideal for sensitive skin.

DryFit technology layer wicks moisture away and keeps you dry.

Super absorbent layer absorbs 10 times its weight in 3 seconds and distributes your flow evenly throughout the pad.

Waterproof PUL layer to prevent leakage.
Shop our packs and save UP TO 50% OFF!
What our clients are saying about our reusable pads...
"I was looking for an alternative to disposable pads because of all the chemicals in them, and I'm really glad I found these. They are super comfortable and feel great. I was worried that these would feel like wearing a diaper, but that's not the case! They actually feel less diaper-like than the disposable pads. Cleaning them is easy if you do it right away after using them. I've discovered that it's harder to clean them if you wait a few days after using them. All around I would say these are a really great alternative and I'm glad I invested my money into these!
— Hannah Hinton
All Ecowoman Products are tailor-made for environmentally conscious women.
We care about making our products safe and healthy for you—and our planet. That's why we use no extra packaging, no chemicals, or plastics. We also never test our products on animals.
It's about
empowering women
to live their periods in a confident way
.